Note: Concept Art, Not actually Seasonal artwork
Torch has been passed from team who made Destiny 2 to the team that is maintaining (The Live Team)
Live Team's goals:

New reasons to keep playing

New pursuites, rituals, and challenges.

And more..

Examples: Iron Banner, Faction Rally's, etc.

Expansion 1 - Winter 2017 aka Osiris DLC
Seasons
Max level so that old/smaller clans have a chance vs only larger more active clans to dominate. Keeps everything on a more fair level.

Seasons have themes associated with them. They take feedback from the community for adding and adjusting things such as new emotes, rewards, etc.
Goals
More predictable time tables (what to expect and when)

Destiny 2 year 1: 4 seasons

Make big changes to the game

Sandbox tuning, new features, more content

Big patches to change the meta, etc.

Meant so you don't feel like you have to play Destiny ALL the time.
Season 2: The Dawning
Season 2: The Dawning will make a return shortly after the launch.

Ice Hockey will be enabled

Other Easter Eggs

You can have snowball fights

Event affects will be throughout the world, not just the social space.

Armor, Weapons, Shaders, and possibly emotes will come
Armor
Iron Banner
1,500 YEARS worth of time played between all guardians.

Learned how we interacted with the loot system. Will be changes to loot such as letting us direct purchase guns via tokens and legendary shards.

The token economy is not always the best way for everything.

Unlock ornaments via gameplay vs tokens for some events in the future.

Heard community feedback of wanting rewards more meaningful.

One more Iron Banner in Season 1.

For Season 2, there will be an ornaments slot requiring an objective to unlock to show that you completed a limited event objective.

Perks and stats will be updated.

There will be a complimentary energy and kinetic weapon so you can have one of each.
Weapons
Ornaments
Trials of The Nine
There will be ornaments as well, not shown yet but "They look really cool"

Updated weapons, both visual look and perks
Season 2
Faction Rally
Faction Rally Armor can be earned by just playing and repping your faction.
Dead Orbit
NM
FWC
Weapons
Clarion Call
When: Before end of Season 1

Double XP while playing activities with your Fireteam

Pilot: Clan collaboration required
Bright Engrams
All the emotes, and other rewards from it will be updated and changed
New Mic Drop emote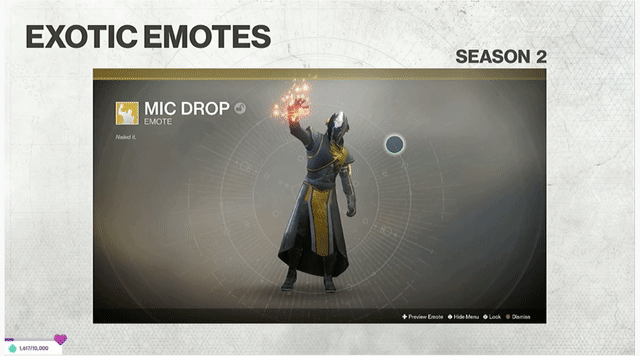 Fun Fact: Bungie has a recording studio that they record the emotes.

New transmat effects
Exotic Ships
Season 1
Season 2 - The Dawning
Season 2 Example 1
Season 2 Example 2
Exotic Sparrows
Season 1
Season 2 Example 1
Season 2 Example 2
Ghosts
Example 1
Example 2 - Rotating rotates solar system behind it
Example 3
Example 4 - Dawning Exclusive
Shaders
Shaders stay season over season (Unless Bungie adjusts down the line, no plays at the moment)

They heard our feedback over deleting shaders in mass - On the to do list.
Armor
Changes in bright engrams when season changes

New armor with new seasons
Crucible Maps
When certain rituals complete special maps goes live to entire circulation - Example

Such as the Trials of Nine map, Raid themed map, Shores of time themed from Destiny 1, etc.
Sandbox Tuning
What is the sandbox? The playable space.

They have data on basically everything you do such as most played subclass, weapon, what bullets fired from what weapon, usage of basically everything in game.
Clans
Clan rank resets at Season 2

New perks to earn, targeted at what the game goals are (based on the Season themes)

Clan rewards

You can change the staff/bar in the middle based on clan rewards from seasons.

Clan engram updates

Make sure loot pool updates
More Info
Bungie will be at Paris Games Week next week